Last Alarm/Memorial Committee
Committe members: Ben Lasure, Keith Mayle, Mike Evans.

Joe Carbenia
IAFF LOCAL 249 Mourns the Loss of
President Emeritus Joe Carbenia
&
OAPFF Mourns the Loss of
Vice President Emeritus Joe Carbenia
Joe Carbenia




Canton City Council
It is with deep regret and great sorrow that the OAPFF announces the death of Vice President Emeritus Joe Carbenia, who lost his battle with cancer on August 10, 2009.
"This is a very sad and profound loss for Brother Carbenia's personal and OAPFF family. Joe was one of the best," commented OAPFF President Mark Sanders. "We will do everything in our power to honor his service to our members, the labor community and the City of Canton. His passing is a loss for all active and retired Ohio Professional Fire Fighters."
During his life, Carbenia held a variety of elected positions including both union and civil office. Carbenia began as a fire fighter in Canton. He was appointed OAPFF Trustee in 1982 where he served for 15 years until he took the position of Retiree VP, an office he held until 2006. Carbenia served as Local 249 President for 14 years and Secretary for 3 years. Throughout that time, he served 20 years as OAPFF work comp / pension representative, a position he held until his death.
"Joe was the consummate union man," said OAPFF Third District VP Mike Taylor. "He was a leader by example, a pioneer through his deeds, a man deeply committed to his family, Ohio's Professional Fire Fighters and his community. There was no one like him, he was my mentor and friend, it is difficult to imagine that anyone can replace him."
Away from the OAPFF, Carbenia showed his dedication to his community by serving nearly 10 years as a Canton City Councilmember, being elected to 5 terms. He also served as the Vice President of the Canton AFL-CIO Central Labor Council. In recognition of his service and his position, Canton Mayor William Healy has ordered flags at all city buildings be flown at half staff.
Carbenia is survived by his wife of 47 years Clara and his family of 5 children, 13 grandchildren, 4 great-grandchildren and the immeasurable amount of fire fighters he helped and counseled throughout his years of service.
From Canton Repository
Committed family man. Strong supporter of unions. Devoted city councilman. And a tough guy with a big heart.
Friends and family say that sums up Joe Carbenia, the Ward 9 councilman who died late Monday night following a battle with prostate cancer. The former city firefighter was 70.
Carbenia narrowly won the Democratic primary in March, and despite health woes, was seeking re-election in November, said Auditor Richard A. Mallonn II, a close friend of Carbenia's.
Carbenia had not attended a council meeting since June 8, and had been hospitalized for several weeks before he was moved to Aultman's rehabilitation facility, said Gino Carbenia, one of the councilman's children. Following prostate surgery, the elder Carbenia was diagnosed with prostate cancer. Carbenia's health deteriorated and he was readmitted to Aultman Hospital, Gino Carbenia said.
Carbenia had served as the Ward 9 councilman since 2000. He was a city firefighter from September 1963 until January 1989. He made captain in 1979. He graduated from McKinley High School in 1956. Carbenia is survived by his wife of 47 years, Clara, and five children — Gino, Joey, Gary, Guy and Michele.
"He cared about Canton and the people who lived in this community," Gary Carbenia said. "There's a lot of people who gave up on Canton and moved out ... but he loved this city, he wanted to see it prosper, he wanted to see it rebuilt and back to where it was in its glory days."
Marty Hall

In Memory of

Captain James "Marty" Hall
September 26, 1968 - May 30th, 2009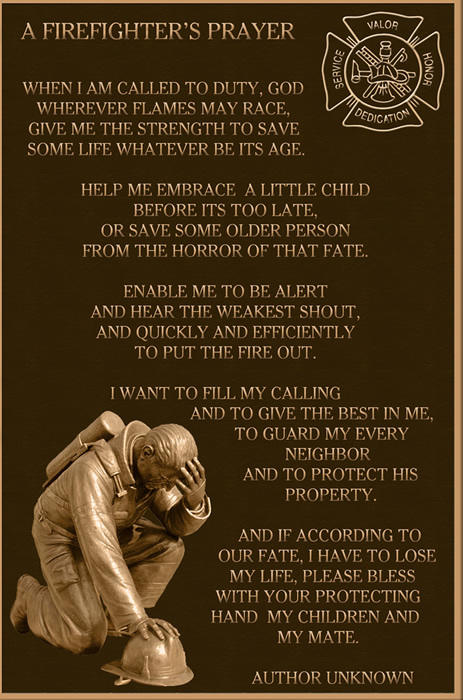 Fire Captain James Martin "Marty" Hall, a beloved father, son, brother, true hero to all those who knew and loved him, and whose commitment and devotion to his daughters who were his life's passion, passed away suddenly on May 30, 2009. He was 40 years old. Marty was born on September 26, 1968 and grew up in Louisville and New Baltimore, OH. The years of his youth were spent primarily on the baseball diamond, winning the State of Ohio Hot Stove League Championship when Marty was just 10 years old. After graduating from Marlington High School, Marty enlisted in the Navy, following in his father's footsteps. He sailed on the USS Carl Vincent, and enjoyed his journeys over the seas. He would often tell stories of these days when prompted. Marty's early love of baseball would prove to be prophetic, as it helped to shape an especially strong relationship with his own daughters. His best days were those that he spent with one of his beautiful girls, watching them excel on the field or on the court just as he had. Marty simply was the greatest dad, and he could not have been prouder of the young women he helped raise. Marty was a captain on the City of Canton firefighting force, where he had served the city for over 15 years. He was known among his crew as a "fireman's fireman," and like most things Marty undertook, he excelled tremendously. He was honored as 2003 Firefighter of the Year, for the role he and a fellow firefighter took in performing CPR on a child they rescued from a burning home. They found the child not breathing in a smoke filled upstairs bedroom. Marty performed mouth-to-mouth in order to save the little boy's life. Just this past January, the Mayor of Canton honored Marty again with a meritorious citation for exceptional performance at another fire. Many of his peers felt that "if you needed rescued, Captain Hall and his crew would be the crew you would want coming for you." Marty had long wanted to take his daughters on a special vacation, and they had planned to take a cruise together in August. Marty will be greatly missed by all those who knew and loved him. He was, by all accounts, our real-life hero. Long live C.F.D. #4. He is survived by his daughters, Arika, Chloe and Ashley; his father James (Sue); mother Joyce (Glenn) Moore; sister Traci (Rob) Farmwald; former wife Renee; and many aunts, uncles, cousins, nieces and nephews. Funeral services will be held on Friday, June 5, 2009 at 11am in The Johnson Center on the Malone University campus, 2600 Cleveland Ave NW, Canton, OH 44709, with Rev. Jeff Bullock officiating. Burial will follow in Forest Hill Cemetery. Calling hours will be Thursday from 2-4pm and 6-8pm in the Johnson Center. The Reed Funeral Home is handling the arrangements. In lieu of flowers, memorial donations may be made to the Marty Hall Memorial Fund at any First Merit Bank branch. Those wishing to send condolences or share a fond memory may sign the Reed On-Line Guestbook at www.reedfuneralhome.com.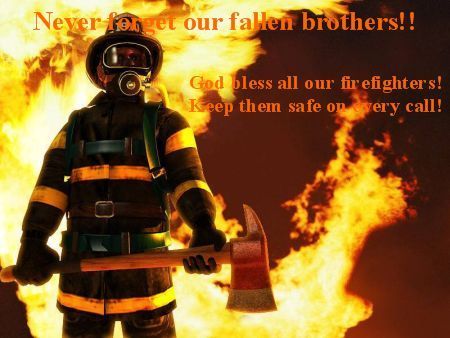 Captain Hall was hired at the city of Canton Fire Department on June 7th, 1993 as a firefighter paramedic and worked on 1st shift. He was promoted to Captain on March 5th, 2001 and was transferred to 2nd shift at station 9 at Market and 19th St NW. As Captain at Station 9, Marty received a Firefighter of The Year Award on October 7th, 2003 for his part in rescuing a child from a burning house. In January 2009 he received a Citation of Merit for his exemplary work at a structure fire in December of the previous year.
Marty also worked at Greentown Fire Department as a firefighter EMT and at American Medical Response (AMR) from January 22nd, 1996 till December 3rd, 1999
Marty competed for the city of Canton on the combat challenge team from 1995 to 2000 helping the team reach 2nd place in the national competition in September of 1996. His personal best time was 1:59.00 at Cleveland Regional in 1997 and places 3rd at Cleveland Regional in 1996.
Marty was born in Salem Ohio September 26th 1968 to James B Hall and Joyce Hall
Marty has a sister Traci Farmwald
Marty has 3 daughters Ashley, 21, Arika, 15, and Chloe 12
James Martin Hall "Marty" named after his mother and father's favorite country singer Marty Robbins.
Marty was one of the older grandchildren born into the family. His younger cousins called him "Tank" because he seemed strong. As his nieces and nephews do today. He has a few nephews who want to be Firefighters like "Uncle Marty" when they grow up.
Marty's favorite TV show was "Emergency" when he was growing up.
When he was 5 years old he started playing baseball. His Dad was his coach when he turned 6. In 1978 when Marty was 10 years old they won the Hot Stove State Championship. Marty was a pitcher for Marlington High School baseball team. He also played football and basketball for Marlington High School. We still have all of the photos and newspaper articles from those times.
He also was an avid Pittsburg Steelers fan. On game day he would lay every Steelers shirt around the house for decorations and place the Bobblehead Doll on the TV. He and his Mom would do a Lynn Swan dance. His sister Traci was a Browns fan.
Marty was the life of the party, the life our house. He could make anyone laugh.
After high school Marty served in the US. Navy for 2 years and 4 years in the Reserves. While in the Reserves he became friends with some Firefighters who talked him into taking the Firefighter test.
Marty has a stepdaughter Ashley (21) who he enjoyed watching in all of the sports she played.
Marty was so very proud of his daughters, Arika (15) and Chloe (12). When they were old enough to play sports their sports became his life outside of the Firefighting world. Marty coached 5th and 6th grade girls' basketball teams for both of his daughters.
Marty would attend every basketball, softball and volleyball game his girls played. He would even trade days off with fellow Firefighters to be there. Marty and his Dad would see every game and then later that day they would rehash every pitch, toss, throw, hit, catch, slide and serve they saw. Marty would call his Dad everyday and talk to him about something or just see how he was doing. We miss him so much.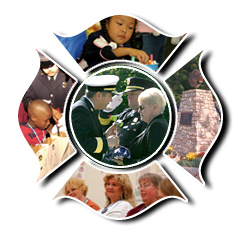 I want to thank every one of Marty's fellow Firefighters that were able to trade days off with him so he could attend his girls sporting events. Thank you from the bottom of our hearts.
Captain Hall will be laid to eternal rest at Forest Hills Cemetery
Calling Hours
: Thursday June 4th 2009
2600 Cleveland Ave NW Canton, Ohio 44709
Church Service
: Friday June 5th, 2009
2600 Cleveland Ave NW Canton, Ohio 44709
Reception: Friday June 5th, 2009
Canton Civic Center
1101 Market Ave
Canton Ohio, 44702
procession route to Civic Center
Notes from friends:
September, 2005. Hurricane Katrina devastates Mississippi, Louisiana, and parts of Alabama and Texas. Especially hard hit is the "Big Easy" ( New Orleans). All of the disaster services, the Red Cross, FEMA, among others, are overwhelmed. A call goes out to fire departments across the country for volunteers to assist disaster victims (Three weeks later, after FEMA deployed firefighters across the country, hurricane Rita devastates SW Louisiana and SE Texas). When the word came out in the CFD, Marty Hall was one of the first to volunteer. A lot of guys signed up. I mean a LOT of guys, brothers. Marty was one of the four humbled guys chosen. He gave thirty days of his life to help people in need. People he never knew. That was Marty. He made a lasting impression on everyone he met. His team leader working for FEMA, a fire chief from Daufuskie Island, S.C., named Ed Boys sent me an email on May 31 to relay his heartfelt condolences and kind words to his family. He recalled some fond memories and funny stories. Although it's been almost four years since that event, the memories still feel fresh, not just for the three of us that went with Marty, but also, for the many he met and worked with along the way, like Ed. As for the three of us, we're fortunate and grateful to have spent that time with Marty, listened to his stories of his daughters and family, listened to his jokes, been the butt of his jokes, gotten to know him. We'll cherish those thirty days forever, but a part of us now feels that those were days that were stolen away from his family, that now, would have meant so much. Our sincere condolences and thanks go out to Arika, Chloe, Ashley, and Renee. Truly there has never been a prouder father, a more natural leader. Thanks for the memories, Marty. Thanks for the inspiration. From the three of us, rest peacefully, Brother!
Fellow firefighter Bill Mobilian
Although I have many fond memories of Marty, the ones that stand out most for me were shared at Malone College's Library. Marty and I spent countless hours there studying for the Captain's exam back in 2000. It rarely ever failed that when I walked in he was there or vice versa. We did not study together but took many a break and talked about anything and everything. Marty was truly a good listener. You could just tell that he was interested in what you had to say. I wish I could be more like that myself. I know, because we spoke often of it, that we both were pulling for each other to do well and get promoted. Get promoted we both eventually did. I knew the minute I saw him there though, that I would beat him. I knew there was no way on earth he could possibly learn more than me with the smorgasboard of college girls walking in and out of that library. I was certain it would distract him more than it would me. I remember every single time a new girl would walk by our cubicles, within seconds we would both peak our heads out to make sure the other didn't miss one. Can't hurt to look! In the end, I did edge Marty out and got promoted a few months ahead of him. He was one of the first to congratulate me when the results came out. In those few months between our promotions he would often call me on my shift day to see if I had caught a fire or an interesting single engine response. He wanted to know every detail. He was so excited for his promotion that was nearing. I knew the minute I met Marty 16 years ago that we would be friends. He was my kind of dude. Big, strong, tough and liked to have fun. If it sounds like I had a bit of a man crush on him it's because I guess I did. That quickly ended when I saw him in civilian clothes for the first time at medic school. He had these ratty old yellow shorts on and a F@*!ing Pittsburgh Steelers shirt! He was one of those people!! As it turns out, I got over it and gave him a pass. He was too cool to let it bother me. You have to be pretty cool to give yourself a nickname and Marty had many. I'm not sure if he gave himself this one or somebody else but my favorite was always.......Hollywood! Every time I greeted him, either on the phone or in person, it was usually what's up Hollywood!? It pains me now to say Rest in Peace Hollywood! I still can't believe you're gone and I will miss you terribly.
Doug Lewis
Dear Brothers,
First, on behalf of the 105 members of Parma Professional Firefighters Local 639 allow me to extend our condolences to everyone at Local 249 in the passing of Brother Hall. We will hold all of you in our thoughts as you work through this difficult time.
I also wanted to compliment all of you for the beautiful service that you provided Brother Hall and his family. Myself and two other members of our Honor Guard attended the service and were very impressed with how organized and professional everyone was. Each member of Local 249 and from the surrounding departments are to be commended for their outstanding performance of such a difficult and emotionally draining task. The delicious food served at the end of the procession was also very much appreciated. We had the pleasure to speak with several Brothers from your Local and were treated with the upmost respect and courtesy at every step.
As we marched in the procession and saw the large turnout of the public and the countless signs that reflected on the service of Captain Hall and of Canton Firefighters in general we were reminded of how fortunate we are to be a part of a profession that exhibits this type of Brotherhood and of the bond that exists between us and the people that we serve. The City of Canton and its residents are indeed fortunate to have such professional and dedicated Firefighters protecting them.
If we can ever be of service, please call.
Parma Firefighters Local 639
In Memory of Capt. Marty Hall
Window Stickers can be purchaced for $10.00 each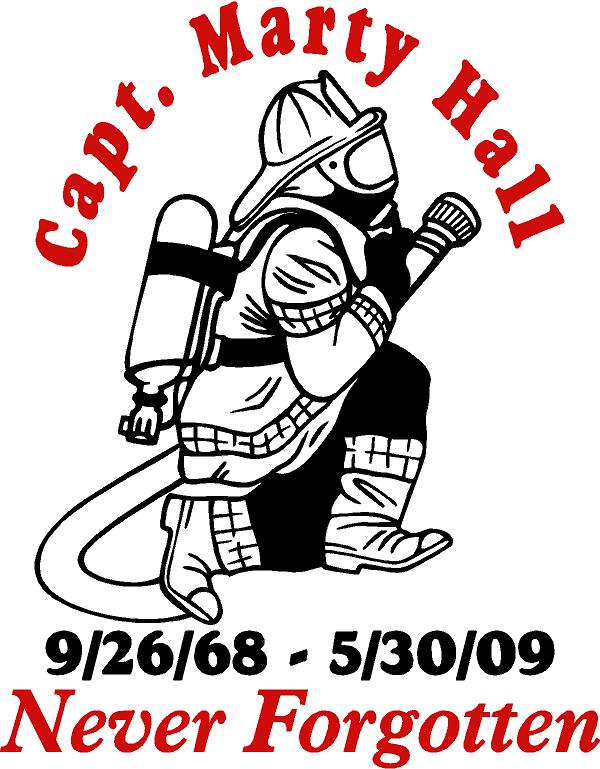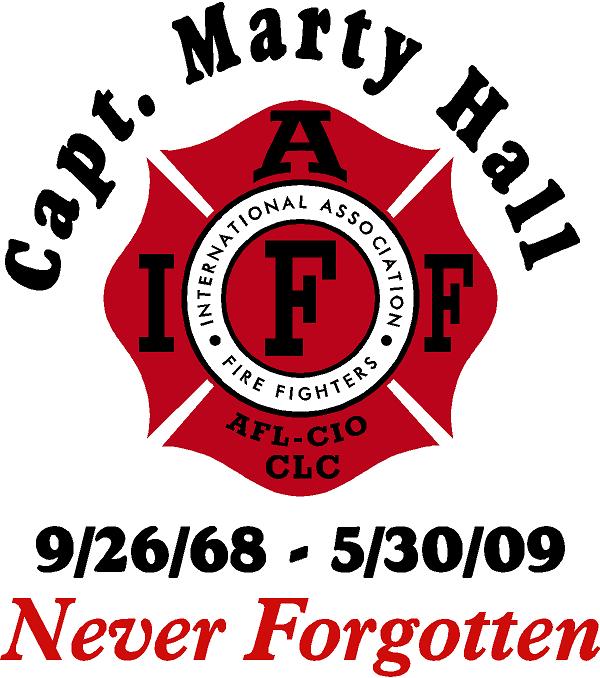 Bumper Sticker can be purchaced for $5.00 each
Gary Litun
Gary Litun has passed away and will have a Last Alarm service at Rossi's Funeral Home on Tuesday January 6, 2009. Please arrive by 1745 hrs.
Robert Brown
Robert Brown, of North Canton, passed away on October 15, 2007.
Dennis Stienmetz
Dennis Stienmetz of Canton, OH, passed away on August 26, 2007.
Thomas Hickey
Thomas Hickey of North Canton, OH, passed away on June 15, 2007.
Jay B. Maney
Jay B. Maney, 98, of Louisville, OH, passed away on Monday, July 30, 2007.
Bill Smith
Bill Smith of North Canton, OH, passed away on April 6, 2007.
Frank Castor
Frank Castor of Columbus, OH passed away on December 21, 2006
Hugh Davis
Hugh Davis of Canton, OH passed away on November 21, 2006.
Tom Meese
Tom Meese of Canton, OH passed away on November 14, 2006.
Harold Koehler
Harold Koehler , of Canton, OH, passed away on March 4, 2006.
Page Last Updated: Sep 23, 2009 (16:40:00)